Homeschool Book List
Only the books that we have really enjoyed have made it onto our homeschool book list. Our family loves to read. We have read hundreds of books. Some books we have read out loud as a family. Others books are read privately and discussed.
Each family member likes a slightly different genre. So some of the books listed are favorites of one family member but not the other.
Throughout the years we have also tried to read books that others have suggested. For one reason or another we have set the book aside. Not every book needs to be read.
Here are some of our favorites. Starting with the stories for the very young and continuing to what we are reading today.

Picture Books
I started reading picture books with my children when they were babies. We enjoyed simple board books about shapes, letter, numbers, and animals.
Here is a list of books that my children enjoyed as preschoolers and when they were non-readers.
Miss Nelson Is Missing!  ----  Harry G. Allard Jr. and James Marshall
Good Night Moon ----  Margaret Wise Brown and Clement Hurd
A Bear Called Paddington ---- Michael Bond and R. W. Alley
Hotter than a Hot Dog ---- Stephanie Calmenson
The Very Hungary Caterpillar ---- Eric Carle (anything by Eric Carle)
Corduroy ---- Don Freedman
Millions of Cats ---- Wanda Gag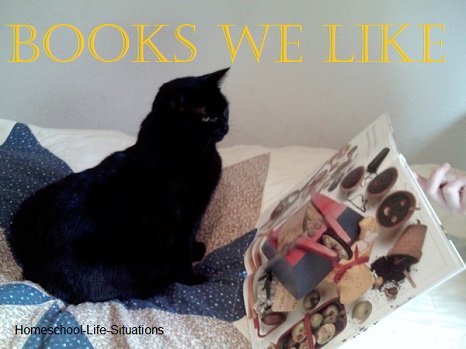 Where is Spot? ---- Eric Hill
The Snowy Day ---- Ezra Jack Keats
Leo, the Late Bloomer ---- Robert Kraus and Jose Aruego
The Story of Ferdinand ---- Munro Leaf and Robert Lawson
Swimmy ---- Leo Lionni
Brown Bear, Brown Bear What Do You See? ---- Bill Martin Jr. and Eric Carle
Make Way for Ducklings ---- Robert McCloskey
Ten Little Ladybugs ---- Melanie Gerth and Laura Huliska-Beith
Time for Bed ---- Fox Mem and Jane Dyer
Tacky the Penguin ---- Helen Lester and Lynn Munsinger
If You Give a Mouse a Cookie ---- Laura Numeroff (anything by Laura Numeroff) and Felicia Bond
The Little Engine that Could ---- Loren Long and Watty Piper
The Tale of Peter Rabbit ---- Beatrix Potter
Good Night Gorilla ---- Peggy Rathmann
Where the Wild Things Are ----- Maurice Sendak
The Cat in the Hat ---- Dr. Seuss
Caps for Sale a Tale of a Peddler, Some Monkey and Their Monkey Business ---- Esphry Slobodkina
 Lyle, Lyle Crocodile ---- Bernard Waber
Harry the Dirty Dog ---- Gene Zion and Margaret Bloy Graham
Christian Picture Books
I also felt that it was important to read Christian books when my children were young. Here is my homeschool book list for Christian picture books.

The Christopher Churchmouse Treasury -- By Barbara Davoll and Dennis Hockerman


The Christian Mother Goose Book -- by Marjorie Ainsborough Decker

Christian Mother Goose Rock-A-Bye Bible -- by Marjorie Ainsborough Decker
Barney Wigglesworth series-- by Elspeth Campbell Murphy


My Tall Book of Psalms -- by Donna Huisjen and Cindy Salans Rosenheim


The Lord is My Shepherd -- by Lynne Willey


The Lord's Prayer for Children -- by Debbie Boon-Jenkins


God Helps me Be Brave: A Book About Courage (Little Butterfly Book) ---- by Jan Johnson


Where's God When I'm S-Scared? (Veggie Tales Little Golden books) ---- by Golden Books
Bible Stories for Early Readers
I used the series to teach reading. My son liked to reread them. There are three levels and six books in each level. Each is based on a Bible story. The books are phonically based.
A Homeschool Book List for
Elementary Aged Children
First and second grade children can read easier books from the list above. My children also liked to read the level readers during this time. Most of the early leveled readers are not note worthy literature but fun for children to practice their reading.
Third Grade
Most children will be able to read from the selection below.
Ribsy ---- by Beverly Cleary
Ramona the Pest ---- by Beverly Cleary
Beezus and Ramona ----  by Beverly Cleary
Henry Huggins ---- by Beverly Cleary
Pippi Longstockings ---- by Astrid Lindgren
The Boxcar Children Series ---- by Gertrude Chandler Warner
Charlotte's Web ----  by E. B. White and Garth Williams
Little House on the Prairie series ---- by Laura Ingalls Wilder and Garth Williams
The American Girls Series
Amelia Bedelia Series ----  by Peggy Parish and Fritz Siebel
Junie B. Jones series ----  by Barbara Park and Denise Brunkus
Magic Tree House series ---- by Mary Pope Osborne
The Magic School Bus series ---- by Joanna Cole and Bruce Degen
Sarah Plain and Tall ----  byPatricia MacLachlan
Fourth Grade
Hardy Boys series (older version) ----  by Franklin W. Dixon
Nancy Drew series (older version) ----  by Carolyn Keene
Pollyanna ---- by Eleanor H. Porter
Black Beauty ----  by Anna Sewell
Adam of the Road ---- by Elizabeth Janet Gray
Fifth Grade
The Secret Garden ---- by Frances H. Burnett
The Door in the Wall ---- by Marguerite De Angeli
Sugar Creek Gang Series ----  by Paul Hutchins
Sixth Grade and Above
Little Woman ---- by Louisa Alcott
Island of the Blue Dolphins ---- by Scott O'Dell
Treasure Island ---- by Louis Robert Stevenson
The Chronicles of Narnia series ----  by C. S. Lewis
Left Behind the Kids ---- by Tim LaHaye, Jerry B. Jenkins
Cooper Kids Adventure series ---- by Frank Peretti
Christian Heritage series ----  by Nancy Rue
Lord of the Rings series ---  by J. R.  R. Tolkien
The Hobbit ---- by J. R. R. Tolkien
Amos Fortune Fee, Man ---- by Elizabeth Yates
The Sign of the Beaver ----  by Elizabeth George Speare
The Pearl ---- by John Steinbeck
Across Five Aprils ---- by Irene Hunt
Books by G. A. Henty
Biographies
I like to have biographies on my homeschool book list. I feel that it is important to learn about important people.

Isaac Newton: Inventor, Science, and Teacher ---- by John Hudson Tiner, Robert Burkett, and Jonathan & David Inc. (Sower Series)
Francis Scott Key ---- by David R. Collins (Sower Series)
Christopher Columbus: Adventurer of Faith and Courage ---- by Bennie Rhodes, Norma Cournow Camp, and A. G. Smith Jr. (Sower Series)
Other books in the Sower series ---- Different authors
Mary Jones and her Bible ---- by Christopher Wright
Sacagawea Brave Explorers Every Child Should Know About ----  by Karla Akins
Jim Elliot: One Great Purpose (Christian Heroes: Then & Now) ---- by Janet Benge and Geoff Benge
Other books in the Christian Heroes: Then & Now series
Seed Sowers: Gospel-Planting Adventures ---- by Gwen Toliver
Books about Books to Read
I used Teaching Tips by Rebecca L Avery a lot when I first started homeschooling. It has a wealth of information about teaching. There is a homeschool book list in the back. The books are listed by grade level. There are picture books, series, and classical literature. Most of the books are available from your local library.
I also used Honey for a Child's Heart: the Imaginative Use of Books in Family Life by Gladys M. Hunt it lists books to read to children from birth through age twelve. Honey for a Child's Heart is found in most public libraries.
The book Honey for a teen's heart: using books to communicate with teens by Gladys Hunt list many more books. I found lots of books that I wanted to share with my teenagers. My children also looked in Honey for a Teen's Heart and came up with books that they wanted to read. Honey for the Heart lists books by different genres such as westerns, science fiction, historical etc.
Reading Lists for the College-Bound Students by Doug Estell, Michele L. Satchwell and Patricia S. Wright lists books that children who want to go to college should read.
Reasons to Read Good Books
Reading good literature can help us sort out how we feel about life. Some books present difficult ideas. We can discuss books with our children. Discussing can help our children understand what they believe.
When we hear literature read it can help us learn proper English grammar.
Reading can also improve our vocabulary. We can see how words are used in context. Any words that are new to us we should look up in a dictionary.
Not only can reading improve our vocabulary it can also help us with spelling.
Reading can also give us ideas for our own writing. Books expose us to different ideas, people, and places. Knowledge about different people and places can give our teens ideas on what they would like to do with their life.
I hope that my homeschool book list will help you discover some new favorite reads.
---
Leave My Book List for Homeschool Language Arts
---