21Preschool Alphabet Activities
We did a lot of different preschool alphabet activities when my children were younger. One day we might read an ABC book together. Another day I might get out the play dough and we would make letters. Sometimes I would let my child choose what they wanted to do.
Since recognizing letters and knowing the sounds is a prerequisite to reading, we did short daily lessons. If we were making an alphabet book we would complete one page.
Here is a list of activities that we did in our homeschool.
Hopefully you will be able to use the ideas with your child. If your child is not interested in on item try another.

Eat the Alphabet      For this activity you will need either alphabet soup or breakfast cereal. Call out a letter. Have your child find the letter in their soup or cereal.
Alphabet Shapes     We used alphabet cookie cutters to make jigglers out of Jell-o. We also used dough and made cookies. Use the letters to write your child's name and other words he might recognize.
Letter of the Day      You will need to plan in advance for these preschool alphabet activities. Think of a letter. Then think of items and activities that start with the letter. You will want to do several activities throughout the day. For the letter B you could have a banana muffin for breakfast, bugs on a log (a piece of celery stuffed with peanut butter and raisins in top) for lunch and for dinner you could have barbecued chicken.
Also think of activities that you can do. For the letter B you could make your bed in the morning. Blow bubbles before lunch. Take a bath after dinner and go to bed.
Skywriting      For this I held my child's dominate arm and formed letters in the air. We would say the letter, the object that is represented by the letter and the letter sound. So while we were writing "a" we would say, "A, /a/, apple."
Writing Letters      We also wrote letters in shaving cream. Sometimes we would use rice instead of shaving cream.
Handmade Alphabet Books We also made our own ABC books. I would write the letter on a page. Then we would cut out pictures from old catalogues and magazines. You can also use clip art. Look to see if your word processor has clip art. There are also sites on the internet where you can download clip art for free.
Sensory Letters      We used sandpaper to make letters. You could also use other substances like fake fur.
Yarn Letters      Write a letter on paper. Cut a piece of yarn so that it is long enough to cover the letter. Place white glue over the letter you wrote on the paper. Have your child place the yarn on the glue.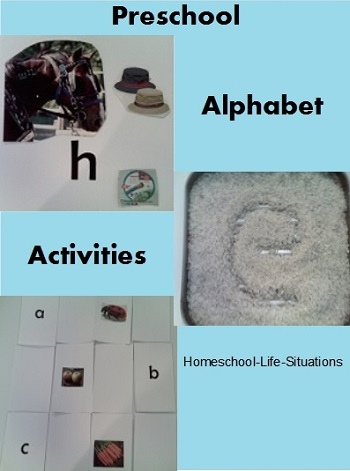 Trace the letter      On a large piece of paper write one letter. Have your child trace the letter with a marker.
Color the Alphabet     Activity Coloring Pages have ABC pages that you can download. Inside each letter is an item that begins with the letter. Inside the letter g are grapes. The letter n is wearing a necklace.
Coloring Books      We did not have internet when my children were young so we found alphabet coloring books. Dover Publication has several ABC coloring books. You could also check to see if your dollar store also has books.
Read ABC Books      There are alphabet books on almost any topic. I have found books on birds, vegetables, animals, and dinosaurs. When you are reading books with your child, point out the beginning letter in the words.
Match the Letters      On index cards write the upper case letters. On another set of cards write the lower case letters. Mix the cards up. Place face down on a table. Have your child match the upper and lower case letters.
Match the Sounds      You also can make a phonics match game. This time write the letters on index cards. On another set of cards find pictures of objects that start with the letters. Have your child match the corresponding letter and picture.
ABC Songs      There are phonics ABC songs. Youtube.com has several that you can watch with your child.
Worksheets      My least favorite preschool alphabet activities involve worksheets.  Some young children like doing worksheets. Look for alphabet dot to dot, mazes, and hidden letters.
Play Dough      Make letters by rolling the dough into logs. Shape the logs into letters.
Magnetic Letters      We placed letters on the refrigerator. Ask your child what letter is on the refrigerator. You can also use the letters to write words.
Computer Games      We used Reader Rabbit. I did limit the time that my children spent using the computer. I felt that it was more important to run outside and interact with other people.
Letters in Child's Name      Look in magazines and books to find pictures that start with letters in your child's name. For the name Karen you might find kittens, an apple, a rabbit, an egg, and a nest.
Letter Scavenger Hunt      With your child look at newspaper headlines. Have your child find letters he knows. Your child can circle the letters. You can read the words.
You can use any of the preschool alphabet activities with any child that is learning his letters.
---
Leave Preschool Alphabet Activities for Homeschooling Preschool
Return to the home page

---