Preschool Zoo Theme Ideas
Have your child learn about wild animals with a preschool zoo theme. With books, crafts, and other fun activities your child will also learn his letters and numbers. Themes are a fun way to homeschool your preschooler.
Hopefully there is a zoo in your area. Going on a field trip to see wild animals can be the climax to your study.
Picture Books
There are several zoo themed picture books. Here are some that we have used.
Good Night Gorilla ----- by Peggy Rathmann is about a zoo keeper that is putting the zoo to bed. There is a gorilla that causes mischief. The story is very funny. We had a board book which is easy for young children to turn the pages.
Polar Bear Poplar Bear what do You Hear ---- by Bill Martin in the book each animal hears the sound of an animal. The zoo keeper hears children making animal sounds. Your child will be making animal sounds after reading this book
Zoo-looking ---- by Mem Fox is about a child who visits to zoo. She sees all of the animals looking at her.
The library probably has more books about going to the zoo. You can also read books about different animals that you would find in the zoo.
While at the library look for some alphabet books and counting books that have a zoo theme.
Some books are listed below.

Include some alphabet books with your preschool zoo theme. I tried to take every opportunity to introduce my children to the alphabet.
Z is for Zookeeper ---- by Marie and Roland Smith
You could also include alphabet books about wild animals such as;
Wild Alphabet: A to Zoo Pop-up Book ---- by Dan Green
Amazing Animal Alphabet ---- by Richard Edwards
Math Books
There are also counting books that you can use to help teach your child about numbers.
1, 2, 3 to the Zoo ---- by Eric Carle
One Night at the Zoo ---- by Judith Kerr
A Game to Make
Besides reading books, make a simple game for your child. On a thin piece of cardboard draw a game board. On each square write something to do at the zoo. Here are some ideas;
Wait in line for popcorn miss a turn
Ride the pony miss two turns
Pretend to climb like a monkey
Sit on a bench miss a turn
Make a spinner for your game out of a paper plate, brad, and cardboard hand.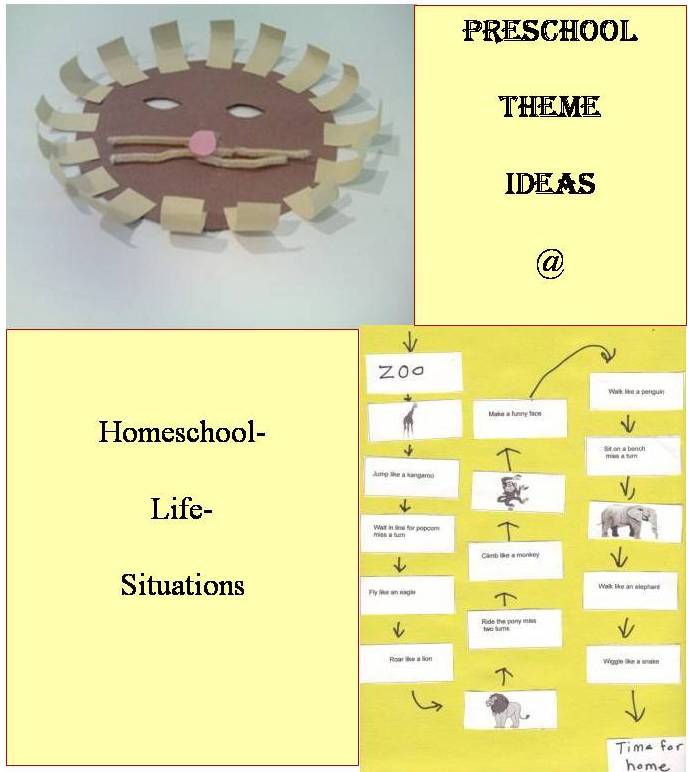 Crafts
Another preschool zoo theme idea is to include some crafts and hands-on activities.
When my children were younger I found coloring pages of zoo animals. I had my children color the pictures. We would then cut out the animal and glue in shoe boxes lids. We would cut small cuts into the side of the lid. My children then placed strips of yarn across the lids. The yarn represented bars on a cage.
Your child could also make different animal masks out of paper plates. To make a lion add a circle of brown paper. Cut strips in the paper so that it looks like a main. Add a pink nose and yellow pipe cleaners for whiskers. With another plate make a leopard by add spots and pipe cleaner whiskers. Think about how you might make a monkey or bear.  If you don't have paper plates use construction paper or craft foam.
Poems or Songs
Young children love to sing. Your preschool zoo theme should include some songs and poems. Animals are so Charming is a cute song about going to the zoo. You can read the song at loving 2 learn.
You could also read poems or sing songs about specific animals such as Ten Little Monkeys or The Kangaroo.
Playing
Before you do these activities, teach your children some about the different animal habitats. I like Usborne books. Each book has lots of pictures and simple explanations. We used Finding out about Deserts, Finding out about Mountains, and Jungles. Using the books we learned where each habitat was located. We learned something of the animals, birds, and plants that were in each location. We also read about the people who lived in the area.
Use either your child's stuff animals or small plastic zoo animals. You can buy a bag of zoo animals from dollar or drug stores.  Next make animal habitats around your room. Here are some ideas.
 Make an African savanna on a brown towel. Have your child place lions, zebras, and giraffes on the towel. 
Make a rain forest with a green towel. Use a paper towel roll and some green paper to make trees. Add monkeys, a jaguar, and parrot in your habitat.
Your child can play zookeeper and show you the different exhibits.
Field Trip
For a preschool zoo theme going on a trip to the zoo is fun. When my children were younger we would spend a limited time at the zoo. We would go several times during the year. This helped my children not to get overly tired. They were better able to enjoy the exhibits.
Since we went several times a year we focused on a zoo zone. One time we would go to the rainforest. Another time we would look at the animals in the African savanna.
Before you go to your local zoo, check out their website. Some zoos have educational activities that you can download. A lot of the times the activities are for school aged children but there might be some pages that are appropriate for your child.
I hope that you enjoyed my preschool zoo theme ideas to teach your children about zoos. With some planning your child will also learn his letters and numbers.
---
Leave Preschool Zoo Theme for Homeschooling Preschool
Return to the home page

---