Examples of Story Starters
Story starters can jumpstart the writing process. Sometimes it is difficult to think about what to write. When I give my children phase they can then add the details to make an interesting story.
Here are some story starters that my children and I came up with. Hopefully the phrases will help your child find something to write about.
There are also some teaching tips if your child is still having trouble thinking what to write.
If your child is still having difficulty think what to write provide a different phase.
Our List

A long time ago in a far off land a princess

One day at the beach we saw

While walking in the woods

One day the animals began to talk

It was a cold winter

What if we had no electricity?

Today I

I plan to

What would we do without TV?

I know love is blind because

If I was King / Queen

One day in the garden

It was hotter than a

During the time of the dinosaurs

In the desert

When I was in a boat fishing

What if there was no paper

If I had a robot

During a stormy night

One night at dinner we heard

The friendly dragon

I should have stayed in bed

At the park

I woke up and it was

The best games have

It was finally spring

The clouds looked like

It was a foggy night

If I could fly

While camping

If I could go to

While at the lake

I would like to

If I lived in

I want to be

Once upon a time I met a

I found five gold coins

I met a prince

I don't want to eat _____ because

My favorite holiday is ______ because

On the mountain I saw

In the tree house

 For dinner we had

I found a treasure map

My favorite pet is

It rained all day so I

This weekend I will

The end is near

The dog looked at me with longing eyes

I knew this was my last day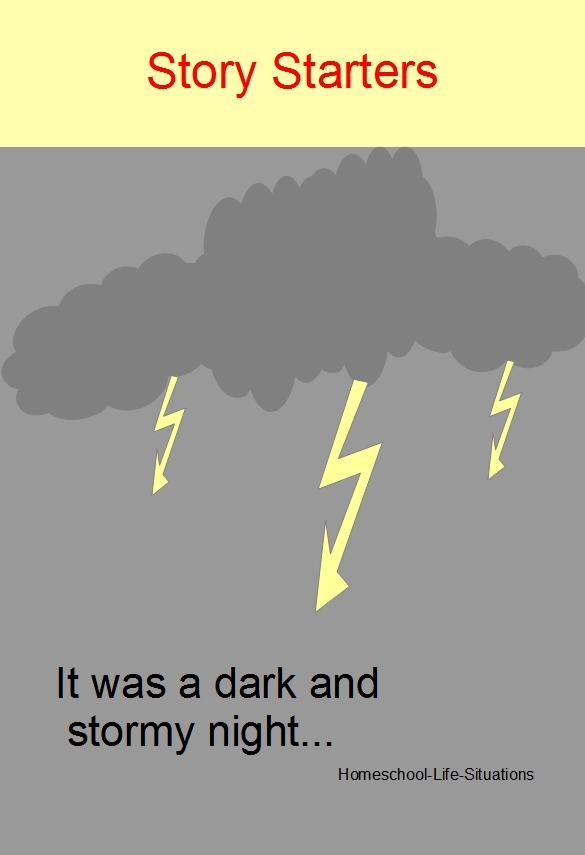 When time stopped

At the birthday party

The boat was sinking

We were attacked by

It is alive

The monster crept closer

The tide was coming in

I took a trip on the train

I was hiding on the ship when

I heard tapping

It was a nice Spring day

We drove to

It was a snowy day

If I could only remember

If I were an inventor

At the circus

The dog was barking

One fine day

The worst thing that happened

At the pond

There was a loud crash

Our new neighbor

The sun is shining

Last night I dreamed

It was the worst day of my life

We heard a baby crying

At the ball game

Yesterday we

If I was President

On a desert island

A long time ago

If I lived during the time of

Let me tell you how I solved

In the future

There was a hole in the wall

We followed the rabbit to

I made a new friend

The writing on the wall

In the wilderness

In the wild West

On the farm

One day my sister/brother

I walked into the cave

My goal is to

I walked down the trail

While deep sea diving

Today is the day

I wish that

I rode a camel

My ideal job is
You can also develop you own list. Think about interesting places or times. Another idea is to write "if phrases" such as if I could make the rules or if dogs could talk. Provide your child with just enough information so that he has an idea what to write.  
Teaching
Some children can take the story starter and easily develop a plot, other children still struggle with writing. You can help your child develop a plot by asking questions. Pick a phase and ask what, where, when, and how. A good story also has some type of conflict or problem. Here is an example for the phase at the beach we saw;
What did you see?

What was the bird doing?

Describe the bird.

Why was it sitting on a rock?

What happened next?

Was there a problem?

How did the bird solve the problem?
Continue asking questions until your child has a story.
A Book of Story Starters

In Story Starters Helping Children Write Like they've Never Written Before by Karen Andreola gives sixty-seven stories to finish. Each story is partially written with a picture. There are also questions to help your child develop their stories.
For more creative writing ideas see my page on writing prompts.

---
Leave Story Starters for Homeschool Language Arts
---